Along the east coast of Taiwan lies the port of Hualien, a city of concealed contrasts. On the surface, it's a fertile plain bounded by the Chungyang Mountains and reminiscent of a China of ancient and imperial composure. But look deeper and there stands a post-industrial Taiwan, which has paid the price of material gain with broken lives and crushed spirits.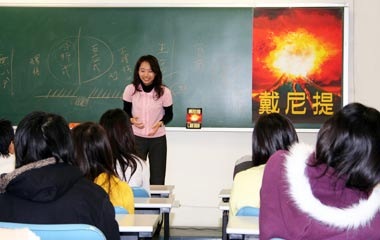 In his book, Dianetics: The Modern Science of Mental Health, L. Ron Hubbard wrote, You are beginning an adventure. Treat is as an adventure. And may you never be the same again.
Entering the workforce straight from high school, Yu-Wen Hsu was fast on the road to occupational burnout. Then she discovered Dianetics and instinctively knew she'd found her true career calling.
Yu-Wen immediately trained as an auditor. Auditor means one who listens, from the Latin audire meaning "to hear or listen." An auditor is a person trained and qualified in applying auditing, Scientology and Dianetics counseling, to individuals for their betterment. She then started her own Dianetics Group, calling it "Navigator," a word conveying her purpose to help guide the Taiwanese people through the din of Hualien's workaday world.
Her living room served as headquarters where she reached out to friends and former colleagues. Then came books to new readers and personality tests (Oxford Capacity Analysis, or OCA Tests) filled out right on her coffee table. That's also where she held Hualien's first Dianetics seminar and co-audit. A co-audit is "cooperative auditing," in which two people learn how to audit, and audit each other.
Those who stepped on board became the backbone of the navigator staff, and with her team in place they advanced into the heart of Hualien's business district. They placed posters in shop windows along Jung Yuan Road and distributed handbills up and down Suyida Jai and Chi Sin Tan Streets. They sold books along every side street from the Yenpin Temple to Beibin Park. Yu-Wen also printed open invitations for OCA testing in the pages of the Gun-Sun Daily News to 50,000 more.
The result was a flood of people that quickly outstretched her living room. That's when the Navigator team opened their New Knowledge of Life Center, where they could accommodate better than 50 people at a time.
Offering a weekly Dianetics seminar filled to capacity public went right into auditing each other using Dianetics—from the bank teller who'd suffered a series of losses, now able to move beyond her grief, to the salesman who rid himself of chronic terror crippling his career, word spread farther by the week.
Taiwan's shaman healers were more than a little interested in how to handle psychosomatic ills when they were introduced to Book One at the Wung Gu Temple.
Response to a lecture for executives and staff of the nation's largest insurance company was so positive that the human resources manager called for follow-up training.
With word of mouth also spreading along the academic grapevine, You-Wen was the guest of honor at Tzu-Chi Buddhist College for a workshop and lecture at the nursing college on Preventive Dianetics.
Future guidance counselors at National Taitung University were taught Dianetics theory, followed by a student-to-student co-audit. Yu-Wen then took Dianetics to the famed Hualien Tourism and Hospitality College, where she addressed 600 members of the student body.
Then for one more zone of Hualien society in dire need of Dianetics, at Hualien's district Detention Center Yu-Wen laid out the fundamentals of Dianetics to the Director of Corrections, who opened the doors for a Dianetics seminar and inmate co-audit.
On the flip side of the law enforcement equation, Dianetics wasn't just a hit with the Shin-Cheng District Police, it was front-page news in the Eastern Daily Newspaper, which proclaimed, "Dianetics reduces police pressures."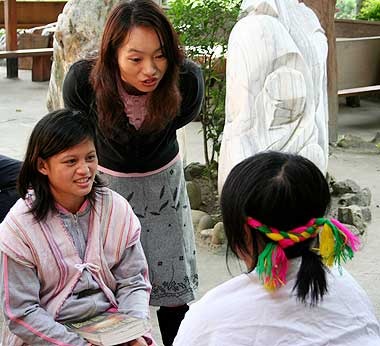 Yu-Wen Hsu and her 'Navigator' Group are bringing Dianetics to every sector of Hualien society.
With Navigator now guiding whole sectors of the regional population, Yu-Wen saturated the rest of her city with word about Dianetics through the media—on the "Wisdom Treasure Box Show" on Happy Radio FM 98.3, the "Fashion Top Party" show on Top Radio 89.7, and the popular morning television program, "Hotline Talking Show" on CATV.
What began with one Dianetics auditor has swelled to a full-fledged grassroots movement in Hualien, benefiting the 203,490 people now introduced to Dianetics.
In his book, Dianetics: The Modern Science of Mental Health, L. Ron Hubbard wrote, "You are beginning an adventure. Treat is as an adventure. And may you never be the same again." Yu-Wen Hsu and her Navigator Dianetics Group are bringing this adventure to the people of their city.

The primary step in resolving the broad activities of man could be considered to be the resolving of the activities of the mind itself.— L. Ron Hubbard
-- Scientology 0-8